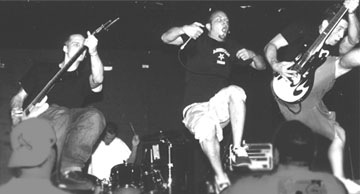 For booking info, business, or to contact bigbluemonkey:

Write to: 9441 Ridge Ave
St Louis, MO 63114

Email: bbmstl@hotmail.com

Phone: 314.210.2632
UPCOMING BIGBLUEMONKEY SHOWS

Friday, March 8th, 2002 (St. Louis, MO)
Battle of the Bands
@ SLCC Meramec
Show @ 7:00 *all ages*
Tickets are only $5. Please email us if you would like to buy tickets!

Saturday, March 9th, 2002 (Redbud, IL)
Leberpalooza
6112 Old Baum Church Road, Waterloo IL, 62298
Elite, S.D.D.L., Breed 24/7, Canadian Wannabes, Ben Streams
Show @ 6:00
FREE

Saturday, March 16th, 2002 (Corona, CA)
Halfway Home *CD Release Party*
@ the Showcase
Bullets 'N' Octane, Running Late, Dumbstruck, Audio Crush (Good Riddance side project)

Saturday, April 8th, 2002 (St. Louis, MO)
Carnival de Musica (Battle of the Bands)
@ Ritenour High School

Sunday, April 9th, 2002 (St. Louis, MO)
@ the Hi-Point
Allister (Drive-Thru records), A-440 and Trouble with Lucy
Show @ 7:00 *ALL AGES* $6 over/$8 under
Saturday, April 20th, 2002 (St. Louis, MO)
Berzerker-Fest
@ the Berzerker Studios on Locust Ave
Bands TBA.
21 and over. 15 bucks all you can drink.

HOLY COW! WARPED TOUR DATES!

July 02nd Phoenix, AZ - Peoria Sports Complex
July 03rd Chula Vista, CA - Coors Amphitheatre Lot
July 05th Las Vegas, NV - Thomas & Mack Lot
July 06th Soda Springs, NV - Boreal Ski Area
July 07th Fresno, CA - Tulare County Fairgrounds
July 10th Pomona, CA - Los Angeles County Fairgrounds
July 11th Los Angeles, CA - Los Angeles Memorial Coliseum
July 12th Ventura, CA - Seaside Park
July 13th San Francisco, CA - Pac Bell Park Lot
July 14th San Francisco, CA - Pac Bell Park Lot


2-28-02
Hello everyone. I got my computer back 4 hours ago, so the new page will begin construction tonight. So for the next couple days, this will be our temporary webpage. Sorry.

Anyway, we have a whole lot of big news to share with you. We never thought we would ever find the right person for the job, but we have. THERE IS A NEW MONKEY! Greg Haupt (formerly of Disturbing the Peace / the O.F.R.) is our second guitar player! We have always wanted to have 2 guitar players, but finding someone with the same charisma and personality as us was close to impossible. Greg stood out like a penis in a girls bathroom instantly. Greg's addition to the band has opened a whole new dimension in our songwriting. He has also increased the average height of our band from 5'11" to 11'7". The live show rocks harder thatn ever!
Thanks to everyone who came out to the Mississippi Nights show last Saturday. The place was packed and we had a lot of fun. Thank you St Louis!!!!!!
We have an updated show schedule over there on the left. That's right - bigbluemonkey will be on the west coast leg of the VANS WARPED TOUR!!
The EP is almost finished getting mixed. It still needs to be mastered and pressed, but it already kicks ass! We are extremely proud of it.
We filmed a video last weekend for "Story of the Year" (off the upcoming EP) It's pretty rad. We drove around for a whole day and set up our equipment at random places and played until the cops came. It's pretty funny stuff. We set up in front of the arch and managed to play a whole song until a horse-cop galloped upon us and wound up hitting Dan with a billy club. It will all be available on the new home video "Apeshit 2002"
After only 3 years and 37,000 downloads, we finally updated our mp3.com page. We finally have 2 new songs on there you can download. I know tons of people have been there to download our songs and instead got old recordings of a different singer and really, really old songs. Sorry for the inconvenience.
Thank you all Street Team members!!!! As usual you are kicking total ass. Email us to join and help spread the word.
One last thing. We have had a great time over the last couple of years and met some really awesome people. We've been pretty successful here in St Louis. To all of you people that we've seen at the shows for years and all the new faces we see every show, we owe you the world. You guys have helped us so much... ... ... In May we are packing up and moving to Orange County, CA. This band is our life, so we take it pretty seriously. And we know there's not to much more we can do here. We will always represent the STL, but now we will do it from the west coast. There will be a couple more shows in St Louis, including an EP release party, and a goodbye show.
Rock n Fucking Roll,
Ryan, Greg, Dan, Josh, Adam